Act. Report. Plan. (Rinse and Repeat!)
The Sustaine Console collects gobs of data – interval meter data from your campus buildings, production data from your energy systems, local and regional real-time grid load and pricing data, weather forecast data (you get the picture) – and uses optimization heuristics to let your operator know when to use or produce more or less electricity on-site, and how much that change in behavior will be worth - resulting in tens of thousands of dollars (for some of our customers, hundreds of thousands of dollars) in energy revenues and savings for your campus. A flat-panel screen in the operating center provides the operator an easy-to-understand daily operating and value schedule, with personalized notifications (by text, phone, or e-mail) for off-site stakeholders.
The Sustaine Console provides a variety of reports, facilitating transparency for the system operator, operational management and campus leadership.
Performance Reporting. Demonstrates visually past operator performance against Sustaine recommendations.

Value Reporting. Shows value (energy savings and energy market revenues) accrued to the campus based upon its actions via Sustaine to participate in energy savings and energy market opportunities.

Sustainability Reporting. Electricity generated by co-generation and solar onsite is generally more efficient than the electricity produced by the marginal power plant on the grid. Sustaine is measuring the carbon intensity of grid power available from your local utility at every hour, and comparing that to the carbon intensity of your behind-the-meter energy production. The result is quarterly and annual carbon savings generated by your existing facilities. Also, using equivalency calculators provided by the EPA, the carbon emissions you avoid are converted into emission equivalents (cars on the road, gallons of gasoline, etc.).

Campuses, by their nature, require coherent long-term infrastructure planning. Despite highly effective facilities planning and strong stakeholder influence toward sustainability, many campuses struggle to plan around energy and renewables. The Sustaine Console provides the ability to simulate, based upon real historical campus building use and energy production data, the addition of new on-site sustainable energy assets – a solar array, new co-generation, battery storage, etc. These simulations provide campus operations and finance leadership the ability to consider new renewable projects thoughtfully, in the context of existing campus infrastructure investment, and to optimize projects relative to real-world constraints that independent renewables developers may ignore in their thirst to win a project.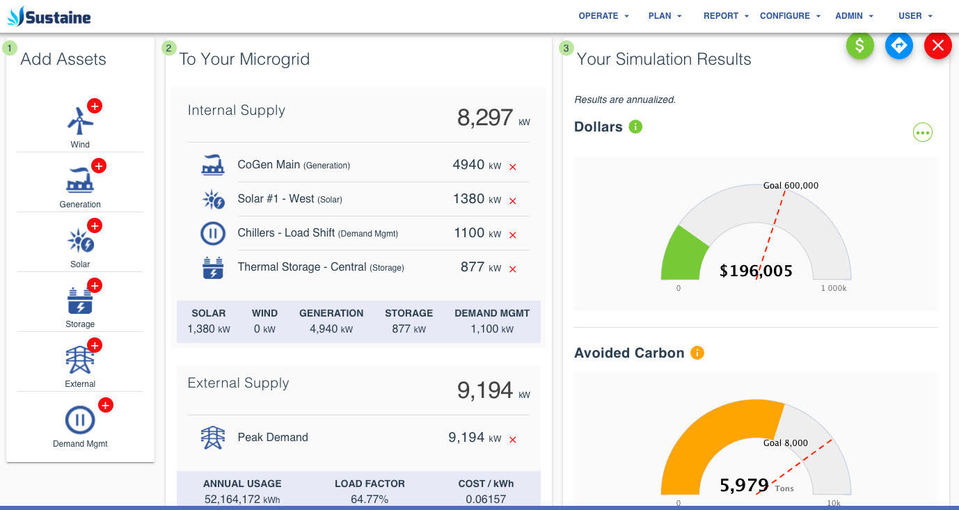 The Sustaine Console models your energy assets, load, tariff and pricing data. It then calculates the value of your energy system—in dollars and carbon reduced—and provides daily guidance to help your operators achieve optimal value.